Traveling alone can be an adventure, or a worry-fest, and sometimes a little of both. I enjoy traveling, even the hassles and challenges of airports, luggage, and security checks, ironically enough. While I haven't travelled super extensively, I have a little bit of knowledge on a few of the Canadian airports. While I rather like the smaller airports, most people will be flying into and out of the larger ones, specifically Calgary, Vancouver, and Toronto.
My own experience, at least for solo travel, is in Calgary and Toronto airports. It's been a few years since I flew out of Vancouver. Though my memory of Vancouver is that it is a nice enough airport on the domestic side, I've never been in the international side.
Flying Solo Through Calgary:
Calgary is an interesting airport, it has a small selection of shops inside security, and a large selection outside, at least on the in-Canada side. If you are flying in on the last flight of the night, around 1am Calgary time, you will have to leave security until close to 6am. Even workmen were forced to leave security during this time, so you may well have company at the 24hr Tim Hortons that is there.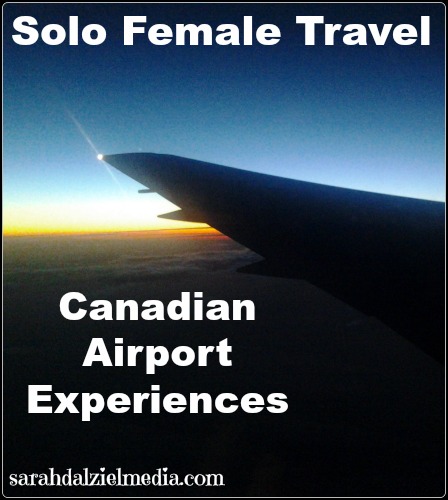 During this wait, you are likely to need to pick up your luggage. Though, if you do not they will sometimes re-check for you, as not everyone knows quite how Calgary works at that time of night.
When I was there, having checked in Toronto, I picked up my luggage and then relaxed for a few hours in the Tim Hortons. Another solo female traveler was also there, and we ended up having quite the chat during the wait.
After security was reopened, I found that it was normal procedure to check and re-enter. Though, if I'd been there when the stores were open I could have gotten very distracted outside security.
Flying Solo in Toronto:
Toronto is a much larger, and busier, airport than Calgary. However, I have felt equally safe in both of them. This past trip I was only in Toronto for 8 hours, the previous trip it was a 23 hour layover. On the longer layover, I napped down by the arrivals door where there is a nice 24 hour Tim Hortons (how'd you guess?). Other than cleaning happening at 3am, I was undisturbed. The area I rested in seems to be preferred by airport staff for taking short breaks and checking their phones, so it is quite safe despite being close to the outside doors.
On the shorter trip, I stayed in the same locality and enjoyed a short rest. I've also rested up on the departures area, where there are a few places with slightly more comfortable benches. For that matter, I've also sat on the floor when I wanted to.
Within the Toronto airport, I prefer keeping my eyes open. The international side is quite busy, and it is easy to get turned around there. There are a lot of people around, and it is quite easy to get into very interesting conversations. At least, if you're not like me and writing instead of being sociable 😉
On the domestic side, there are a good number of stores and some relatively nice restaurants. I find I am never hungry enough for a full meal when traveling, so I don't buy much food. Chips are about the only one that I'm super tempted by, particularly after three months with none of my favorite kind (Salt and Vinegar if you were wondering).
I have always felt comfortable within these airports.
Back To You:
What are your experiences in travel? Do you have a favorite airport or other departure station?
Leave a comment, I enjoy hearing from you!