Christian Fantasy: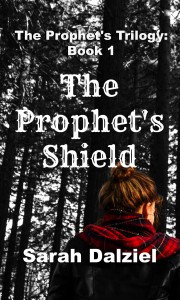 Set in a medieval era land, The Prophet's Shield follows the journey of Mayim as she learns, grows, and battles through the land. Friends are few, and rest is rare, but hope is ever present as long as Light can prevail.
This is a clean fantasy, and is suitable for teens as well as older readers. There are fights and battle scenes, but that's part of the fun of a fantasy story. With themes reminiscent of Frank Peretti and C. S. Lewis, The Prophet's Shield promises to be an exciting read. Learn more…
Scottish Kelpie Tales follows the adventures, of Aqay the kelpie and Robin, the lad she has chosen for her master. Initially the tales cover Robin's adventures as a lad, and as a young laird.
Later episodes of the tales will follow the lives and adventures of his descendants. From hiding from the invading English, to defending the Kelpies from capture and death, the descendants of Robin face, and survive, many challenges and adventures thanks to Aqay and her loyalty.
But, what will happen when there are no sons to carry the memory, the kelpies are forgotten, and the highlands are being harried? Learn More…
Books Coming Soon:
The Prophet's Fire: Book two in The Prophet's Trilogy continues the story of Mayim, now known by her rightful name of Mara, within her own land. Struggling to reestablish her identity and connection to her land, she is traveling when trouble begins. First it is darkness, that she hasn't sensed since Phire. But it doesn't stop there. A new world leader has arisen in Israel, and with the West rallying to fight against him there is danger for all who wonder if he might be in the right. Struggling with the new way hatred is presenting itself, Mara must choose. Will she help those trying to flee the West, even when the darkness has promised her death if she continues to fight against it.
The Prophet's Recompense: Book Three in The Prophet's Trilogy follows the story of Mara from Israel to Canada, and through a barrage of adventures. With one friend close to her, and several more running constant risk, Mara's life is more exciting than ever. With her successes in The Prophet's Fire laying the path she now takes, Mara is more involved in The Resistance than ever before. The battle lines are drawn, and in the gathering darkness, all friends of Light are in more danger than ever. As the danger grows, the questions grow too. Who is the young man Mara picked up at the side of a mountain highway, and why is he so familiar? And, perhaps the biggest question. In her biggest challenge yet, will Mara manage to avoid the dangers thrown at her and actually succeed?