The Prophet's Shield is a Christian Fantasy novel, suitable for all from teen to adult. There are battle scenes, and various challenges to be faced within the land of Phire. The heroine will brook no nonsense, and will follow the Light no matter what the Darkness tries to do.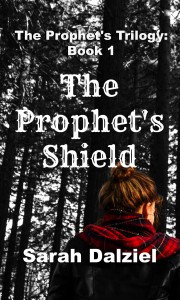 "Awakening without memory, Mayim must act without time to reflect. Outlaw, fugitive and Light Wielder her life is forfeit if caught and all who aid her earn a death sentence. With the battle pursuing her, she must choose the battle ground. In the final moment, will love and light prevail, or will darkness cover the land forever?"
If you enjoy Peretti and C. S. Lewis, you may very well enjoy The Prophet's Shield.
What Others Have Said:
"Fresh new storyline, fast paced and kept me interested to the last page" ~ Elaine
"Amazing creativity story line and ties to the Christian Faith" ~ Liz
"The author does a great job of weaving a story that doesn't have an obvious ending. Her writing style is also fast paced but not so much that it gets confusing. I think this book is a great addition to the Christian fantasy genre" ~ Angi
Buy Now:
The Prophet's Shield is currently available on Amazon Kindle. And on Amazon in print.