I work online, I am human, and I work with humans. That being said, it is a fact of life that there will be disagreements, differences of opinion, and unclear expectations. These six things conspire together to make responding to negative reviews and feedback a part of any online freelancer's life.
I work on Fiverr.com under the handle of Woadwarrior, I have over 90 reviews and of these only one is negative. It is also the only review that I failed to respond to personally, though I did message the person twice after the gig and never heard back.
These tips may not address the review on your work-site of choice, but they might help address it or enable you to learn, and move on without beating yourself up for receiving a negative review.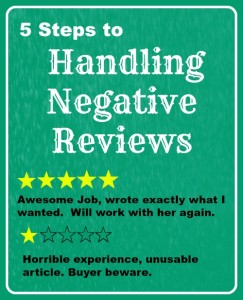 The reason I failed to respond personally was that, at first, I was too emotionally involved to reply with the facts. Then later, when I finally had my facts and response ready my window of opportunity had timed out on Fiverr.
The most efficient way of dealing with negative feedback online is preventing it. The person expected me to not only write a 1000 word article, but also provide book references for the research. However, the gig she ordered from did not allow for research as part of the writing. Basically she was trying to get a high quality article for the cheapest possible price. I was forced to use internet references as I do not have a library on her subject, and the few books I did have that related to it were not specific enough.
Hence, I have now re-written and adjusted my gig descriptions to make sure no one can misunderstand what I am offering to do. If someone wants research as part of their gig, why not check out the article gig that is actually calculated to include it?
Communicate frequently and often. I did my standard communication up until the gig was delivered, at which point the customer said that she would get back to me. The first "back to me" I had was the negative review decrying my lack of communication after the gig was delivered, and saying the article was unusable. However, I was never communicated with or asked to edit the article. Since then I have verified that I not only have an unlimited edit policy in the gig description, I also always restate that I will be happy to do additional edits when I actually deliver the gig.
Respond immediately on receiving the negative review and ask if there is something you can do to fix the matter. I never heard back from my negative customer, but sometimes that is what is necessary to change a negative into a neutral or positive review. If you delay too long (at least on Fiverr) the customer can no longer change their feedback and you have to go through the site's customer service to address the issue.
If you don't hear back, simply respond to the negative feedback with the facts and reiterate an offer to fix the issue if the person would just reply to your contact. This is where I failed, I did not manage to respond to the feedback in the response window. Leaving that review as the only one I did not respond to.
Most importantly, don't let the feedback get you down. Sometimes there is nothing you can do about it, it was a miscommunication, or someone's attempt to get free work and they're mad about paying you (yes I've had those too). Just keep doing your best, and communicate with all your clients.
One thing I've begun since this little fiasco is soliciting feedback or gig improvement suggestions from my clients when I deliver their order. I've had a few suggestions, and am still holding strong with my rating despite the receiving a negative review.
As a soon-to-be published writer, I know I'm going to be dealing with way more negative reviews as my books navigate the shark (troll?) infested waters of online book selling. Rejection and negativity are not the end, and do not mean that you failed either. Take what you can use from the mud, move on, and keep building.