The internet is continuously growing and expanding. With that expansion comes more opportunities for you to engage. Some of that engagement includes blogging, possibly one or multiple blogs, commenting on blogs, or maybe having a profile on an ecommerce site. No matter what type of engagement you do, having brand consistency is paramount.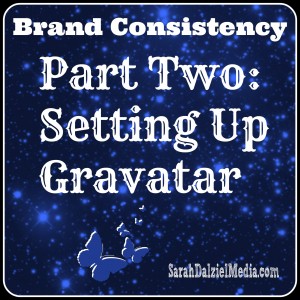 Gravatar for Brand Consistency
Gravatar can help you achieve consistent branding by tying your face to your email address. After uploading a picture and email address(s) to Gravatar, anywhere you posted using that email will now have your picture attached.
How Does this Help my Business or Brand?
People often share names, for example Sarah Dalziel is a common name on Facebook but not every Sarah Dalziel is me. Just because a certain name posted something does not mean that it is the same person that posted on the same topic on a different blog. Having a consistent picture tied to your email shows that yes, the person who guest-blogged on yyy.com is the same person as runs XXX.com over here.
Once the consistency is there, people will come to associate you with the topics you blog, guest blog, and comment on. This will build your authority and reputation in your chosen fields. I have also heard that Gravatar is tied into Google Authorship, so there may be an added benefit from that quarter. Though I have not yet investigated that angle.
If you have a blog, a business, or simply comment lots online and do not yet have a personalized Gravatar, check out my post on how to get your custom Gravatar.
Back to You:
Do you use a personal Gravatar or rely on the generic icons? If you've utilized Gravatar have you found any benefits? Share your story, I'd love to hear from you.