Recently, I was planning a relaxing movie night with a few friends. I wanted to make bread, BUT my yeast was bad. So, I had to figure something else out. Now, I thought that baking powder biscuits would be easier, and quicker, to make than bread. Biscuits use fewer ingredients, and are considered fancier by guests. So, I figured why not try to make some baking powder biscuits.
But, I still had one problem. All the recipes call for milk and I don't keep milk on hand. All the stores were already closed for Shabbat, so I needed to figure out a dairy-free version. A quick online search for milk substitutions didn't give me many options as I don't keep any of the milk substitutes on hand either. However, I noticed that coconut milk could be substituted for heavy cream.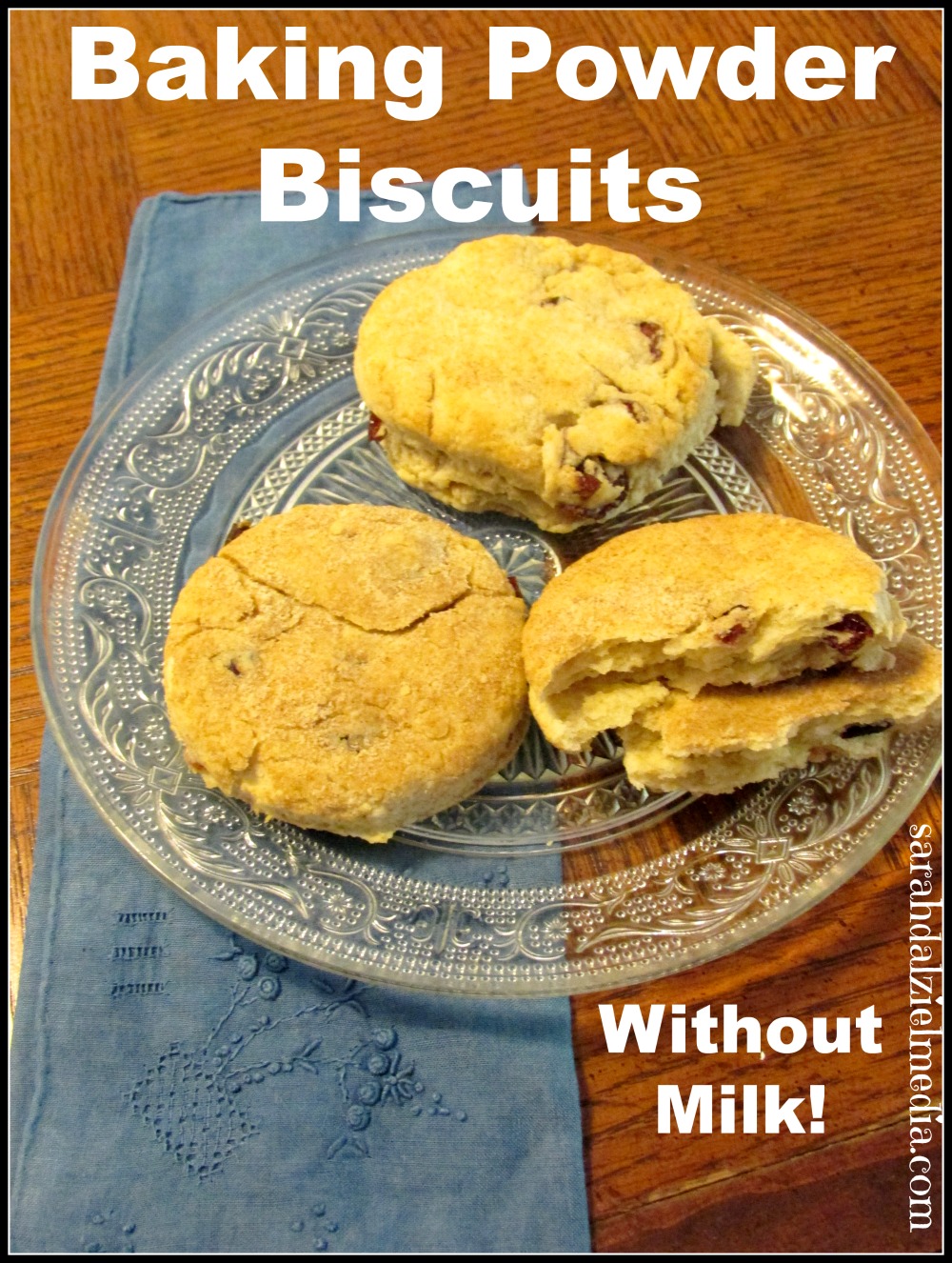 Logically, if coconut milk (which is basically whipped coconut oil with water), could be used for cream, then plain coconut oil and water would work as a substitute for milk. Milk is, at a basic level, water and fat. So, whatever you substitute for it needs to contain both water and fat for the recipe to turn out.
What I ended up with was basically dairy free baking powder biscuits. Just use vegetable shortening in place of the butter and you will have dairy free biscuits.
Pantry Perfect Baking Powder Biscuits
This recipe makes roughly 1 dozen, 1/2 inch thick and 2 inches in diameter biscuits.
Ingredients:
2/3rds of a cup still-cool butter (for a fully dairy free biscuit sub out with shortening)
2.5 cups all-purpose or white wheat flour
2 tsp pure baking powder (or one package blended w. corn starch).
2/3rds cup warm water
2 large tsp coconut oil
1/2 cup dried sweetened cranberries (optional)
Method:
Mix the flour and baking powder together in a large bowl. Add the softened, but still cool butter, and blend by hand until of a pastry consistency. You want the butter to still be slightly lumpy with the flour, like you are making pie crust.
Once the butter and flour is blended, combine the warm water with your coconut oil. The water needs to be warm, otherwise your coconut oil won't blend in with it.
Add the water/coconut oil mixture to your flour mixture. Stir till just blended, about 20 stirs with a small spoon.
Mix in cranberries.
Place bowl in the fridge or freezer to chill for a few minutes. Pre-heat your oven to 400F or 210-220C and grease your baking tray.
Flour your work surface, and grab your rolling pin and a round cutter (a small juice glass works well).
Dump the chilled dough on your floured surface and flatten into a 1/2 inch thick slab. Cut out rounds and place on your baking try, trying not to overwork the dough.
Flatten any remaining dough and continue cutting out.
Once all biscuits are cut out, place the tray into the oven. Bake for 10 minutes, or until biscuit tops are just starting to get golden brown.
Take out of the oven and let cool. Enjoy warm or cold with butter, or cheese and fruit.
Back To You
This recipe was successful, because I used things I keep on-hand in my pantry. Flour, coconut oil, butter, and dried fruit and nuts are things I like keeping on hand for general cooking. I use coconut oil for frying normally, but this time it turned out well for my baking. While on a regular day I could walk to the store for missing ingredients, the fact that there are 3 shabbats this week, means that the stores are not open, so having my standard ingredients on hand certainly helped make my baking powder biscuits a rousing success. My friends thought they were quite spoiled!
What type of recipes do you like? What would you like to learn more about cooking?
Leave a comment, I love hearing from you!