I talked a little bit previously about how the books and stories we read remain in our memories and shape the way we view the world. Romances can shape our view of what love is "supposed" to look like. Adventure often shapes our view of what heroes are supposed to be. While epic stories that encompass justice, betrayal, treachery, and villains, shape our view of the world around us.
As a writer, however, I have a different view. When writing, I can shape the story. Will the person my main character trusts the most remain true, or will they betray them? In real life, those we call friends and trust often end up turning against us, even if we may not know the reason. But as the writer, my challenge is whether this piece of reality would fit into the story, and would be realistic. It may be true to life, but is it true to my characters and their story?
As the writer, I shape the story first, but then the story also shapes me. I can portray nothing in my fantasy world that I have not either encountered in the real world, or through the books that have shifted and shaped my view of reality.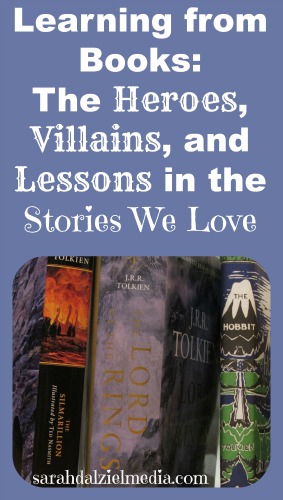 Learning from Books: The Heroes
First in any story is the hero, also known as the main character, this is usually the protagonist. Whether it is a band of protagonists, each ending up with their own goal and quest as happens in The Lord of the Rings, or a story with a single protagonist like Scrooge in Charles Dickens Christmas story. The protagonist and their struggle is what pulls us into the story. We watch Scrooge's transformation with interest, wondering about the true meaning of Christmas. Or, we root for Aragorn, watching as the disinherited King not only defends his own, but wins back his throne and kingship, with the help of the smallest and most unremarkable of persons, the hobbits.
These heroes are our ideals. Challenging us, would we act the same if we were faced with those challenges? Would we risk all, racing after orcs on foot, to rescue our friends? Whatever heroic story it is, it presents the ideal and the challenge of whether we would act the same way. At the same time, each hero does not start off as an ideal hero. Aragorn doubts his own leadership ability at the falls of Rauros, Scrooge is a miser, but at the end of the story the hero has changed, their characters have enlarged because of the challenges they faced.
Each of us is the hero in our own story. But, when we face challenges do we react as our storied heroes did and let the challenges we face grow and change our characters?
Learning from Books: The Villains
These characters are normally the ones you root against. Examples of villains include Sauron, a deceptive scoundrel and master of dark arts, as well as the thieves, brigands, and usurpers in tales of old. The villain is usually the antagonist, or an anti-hero, the foil to the hero you are rooting for.
Villains encompasses the darkest sections of human (or whatever fantasy race it is) nature. Their motives can be strange, a desire for power or wealth for example, or more natural, a desire for love or acceptance. Sometimes they can even land in a grey area, believing they are doing what is best for those under them, but those they are over perceive them as a tyrant and villain.
These villains can shape how we think and react toward the negative parts of our own life or society. When we read of injustice, deception, and other acts of villainy, we sometimes react as we would to our favorite hero's antagonist, at least when the antagonist in the media is of human origin.
Some of my favorite stories however, have the antagonist as nature, chance, or an accident of birth (poverty for example). Watching the hero fight their way against a non-human villain is very interesting, and can give one a stronger emotional reaction to those same "non-human villains" in real life.
Learning from Books: The Lessons
Storytelling, from time immemorial, was a way to teach lessons and bring home character traits to the listeners. Every story has a moral, a lesson which can be carried away from it. Whether it is that hard work and perseverance will win the day, that sheer pluck can carry one through a war, or that chance has less to do with success than dogged determination, those lessons will remain in the reader's heart.
It is the lessons that, I think, are the most valuable part of fiction and fantasy reading. I love the historical novels by G. A. Henty, for this exact reason. Not only are the novels accurate to history, but the main characters evince the character traits that I would want to acquire and develop. Such traits as honesty, determination, courage, quick thinking, and loyalty are all shown, by Henty, to be valuable and essential in all his character's escapades.
The lessons the heroes learn, whether through battle, betrayal, or the other challenges they face, are often remembered well after the final page is read, and the book is closed and put away. Of course, real life will never have a storybook ending, but the lessons written in story can help us to understand our world.
Learning from Books: The People
There is a saying that I frequently hear that basically says "do not judge a person until you have walked a mile in their shoes." Story is one way to "walk a mile in someone else's shoes" and to see things through different eyes, the eyes of the protagonist of the story.
For me, I often identify strongly with one or more characters in a given story, and will sometimes even imagine myself in the story alongside them. I have found that this imagining makes it easier for me to empathize with the struggles and grief of friends and acquaintances. I have seen life through the eyes of story, and that makes it easier for me to see life through the eyes of another when I am taking with them.
If a book is a movie that you direct in your head, then you can be in a single moment of time, both the protagonist, and the antagonist. You can, when reading, see both the justice and the injustice of life, and that can change you.
Story, whether through lessons or morals, through the experience of hearing or reading it, will change you. Most specifically, it will shape your ideas of justice, love, character, and truth.
Back To You:
How have your favorite books shaped your views of the world? Are you conscious of any books that have changed your perspective, or opened a new aspect of the world to you?
Leave a comment!