Author Steven Pressfield in his book the War of Art demonstrates how creative acts are war. Not a war of guns and bombs, but a war of ideas, creativity, and rebellion against the status quo. The War of Art is not fought against other people either; it is fought against "resistance."
How is Resistance Demonstrated?
Reading is one of my resistance's favorite modes of distraction, misdirection, and infiltration. Once I start a book I usually cannot put it down until it is finished, and even then my head is filled with its story and characters. This distracts me from my writing, whether fiction or non-fiction, and has proved effective at preventing my goals from being reached.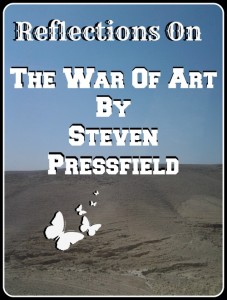 A second manifestation of resistance is the "I'll get to it later" lie. I am reminded that "tomorrow" is the biggest procrastination technique in the universe, simply because tomorrow never comes. I have heard two quotes about tomorrow: "do not put off for tomorrow what you can do today" or "do not put off for tomorrow what you can do the day after tomorrow." On the one hand, resistance is sunk, on the other his job is already done.
Can Resistance be Defeated?
Yep, just do whatever it is you've been putting off the longest and he'll slink away and hide. At least until the next big project, necessary work, comes to the fore and he can act then. The best way to beat resistance is to do exactly what it is the resistance wants you to avoid. For me, that would be sitting down and writing my novel, for you? only you know.
Need Extra Motivation? (or another book for resistance to beguile you with?)
Check out the War of Art and learn more about defeating your resistance. All this talk of resistance reminds me of a quote from Star Trek: "Resistance is futile, you will be assimilated." Or should we say that "Resistance, you are futile and will be assimilated?"
Back to You:
Do you struggle with resistance? What are your techniques for beating down resistance and accomplishing your goals and dreams? Leave a comment, I'd love to hear from you.