Christmas is a time for gifts, fun, and spending time with family. Whether you chose to use your talents, like writing, to create special gifts for your family, or to go purchase gifts that will fit a family member's favorite book, or genre, there will always be a certain level of challenge involved in achieving a perfect gift.
Looking at your family members favorite books can provide unlimited opportunities for unique Christmas gifts. You can use themes from books to create more fantastical gifts, or use current related products to provide a relevant touch. Either way, working backwards from something your family member already likes is nearly certain to end up with a fantastic Christmas gift.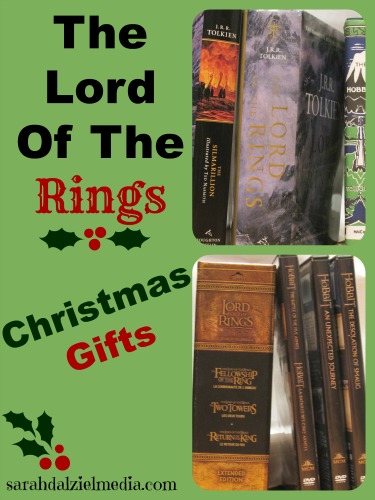 Lord of the Rings and Fantasy Christmas Gifts:
The Lord Of The Rings Trilogy: This epic set of the three Lord of the Rings books is hard cover, and a perfect reading delight for any fan of Tolkien's epic work. No need to try and find the second single book that is somewhere on the shelf, all three books are in one neat hardcover package. Pair this with a soft blanket, or a nice container of hot cocoa to make a recipe for a perfect reading retreat.
The Hobbit is now well-known, thanks largely to the recent movies. However, it remains a very good book to introduce younger readers to the fascinating realm of Middle Earth, and is never amiss for a re-read through by older readers either.
The Lord of the Rings Extended Edition Movie: If you have only ever watched the regular version, you will find that the extended version has several "answers" to slightly abrupt scenes in the shorter version. Pair this with popcorn, a wrap, or some related enjoyable item to prepare for a Lord of the Rings Movie Marathon night (or week if you don't like staying up watching movies for more than 2 hours at a time).
The Hobbit Trilogy, Extended Edition: This is another awesome option for a Tolkien fan. This could be paired with the Lord of the Rings trilogy for an even more epic movie watching marathon (or make that two weeks of 2 hour evenings). Personally, I enjoy watching a movie while working on other hand work, like knitting or spinning during the longer winter evenings.
If you already have the movies, and the main books. There are other books that may also please anyone who enjoyed The Lord of the Rings, include The Silmarilion, Children of Hurin, Tolkien's Unfinished Tales, and The Tolkien Reader. Most of the tales in these books deal with the already known, and loved, Middle Earth and can all be used to bring more depth and richness to the overwhelming world that Tolkien created.
For a writer, a fancy quill pen may well be a suitable Fantasy themed gift. Alternatively, a more specifically Lord of the Rings, or The Hobbit themed pen may well be suitable. There are pens like Gandalf's staff, one like Bilbo's Sword, and one like Thorin's key, as well as a few generic Hobbit themed pens to choose from.
I actually have an official "Sting" pen, and it was when I first got it that I realized why "the pen is mightier than the sword." It's because a "sword" is simply "words" with the "s" misplaced… As a writer, I love pens… maybe too much. If you know a wood turner, however, a nice wooden pen could also be an epic gift. Just pair it with a leather notebook to keep the fantasy theme going.
Tolkien or Lord of the Rings themed notebooks can also be a good gift choice, for anyone who enjoys writing or keeping a journal. There is even a notebook with some of Tolkien's original Lord of the Rings concept drawings, an awesome gift, even if the recipient prefers looking at the drawings to actually writing in the book (guilty as charged! oops).
Finally, Lord of the Rings themed jewelry could be a very fun gift. Arwen Evenstar's pendant and the One Ring, being among the most recognizable pieces. However, anything with a Celtic design could easily pass as being of elfish design.
Homemade Fantastical Gifts:
Of course, the most epic themed gifts may well be the ones that you create yourself. Someone with a little bit of sewing skill could easily create an Lord of the Rings elven cloak, while someone who was skilled with wood could make a wooden letter opener that looks like one of the Lord of the Rings swords.
Gifts do not need to cost a huge amount of money to be valued and cherished, and indeed the most precious gifts are often those that cost time rather than money.
Back To You:
What Fantasy or Lord of the Rings gifts would you suggest giving to a Lord of the Rings fan? What Christmas Gifts would you like to receive that were fantasy themed?
Leave a comment!