I do not pretend to be an expert on public speaking, because it always seems like the worst thing that I can be doing at the time. I have had some non professional training, and had to do it for several university courses, but other than that, I'd rather avoid it. At the same time, no matter what you do in life, at some point public speaking will be essential. If you are going into ministry, a writer, or an entrepreneur, the likelihood of needing to do public speaking just quadrupled.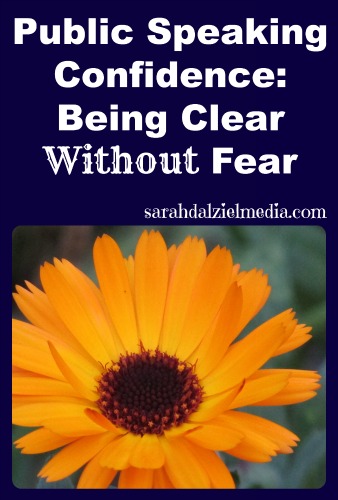 My first lessons in public speaking happened in high-school when I competed in science fairs. My topic was what I had studied for the previous year, and I was the expert. However, every day for up to two weeks preceding the competition, I would practice what I was going to say, complete with gestures, and answer questions for my parents. By the time of the actual judging, I was confident enough in my project to change the presentation based on the interest the judge expressed, and I enjoyed it (shoot!). However, that was the extent of my public speaking endeavors until I began focusing on ministry, and serving others. Now public speaking is not only mandatory, it is also mandatory at the shortest notice possible.
Five Tips to Being Clear without Fear:
1. Always Outline. An outline, even three or four words can save your impromptu speech from rambling and being annoying, to being punchy and remembered. Whether you have five minutes warning, or five weeks, always note down your outline. Internalize it. When you stand to present, have that outline on a little slip of paper, and stick to it. Your presentation will naturally be clear, and hopefully will also be concise.
2. Focus on One thought. In ministry, one is often called upon to speak for a mere five minutes. While many people will take up 15 if they are given five, you don't want to be that person. If you have only five minutes, start with a single thought or idea. Focus on that thought, and make it the start, center, and end of your presentation. The punchier the thought, the better your talk will be remembered.
3. Don't wait to prepare. While I seem to do my best speaking when I have zero warning of being on the agenda, that is not always the best way to do it. When you do have time to prepare, start well in advance. If you prefer writing out your talk, write two or even three versions of it and practice giving all three. Then, try giving a presentation with just the outline of your previously written talk, then read your versions, and try again from scratch. I can nearly guarantee that you will have a much more powerful and fluid presentation if you have prepared and practiced a few versions AND internalized them well enough not to need to read them.
4. If in doubt, start by personalizing it. People love feeling connected, so if you start with a personal anecdote related to your presentation topic, you will have a more interested audience. Also, never apologize in advance for any errors or insecurities. Act confident, but please don't be the presenter that cracks three cheesy jokes before getting down to business. While jokes may make you feel better, unless they are true, personal, or relevant, they are too overdone.
5. Always, Always, Always avoid filling the silence with non-verbal sound. "Um," and "Ah" are overdone, and make you seem less professional. If you need to collect a thought, don't hesitate to let it be a silent pause. You don't need to fill the air with noise, and the silent pause will feel shorter for your audience than for you. Use silence to your advantage, use moments of silence to make eye contact with your audience, and to build suspense. All an "um" does, at best, is make you sound forgetful, at worst it makes you sound like a broken record.
Last Thoughts:
If there is one thing you should remember from this list, it is that just dropping non-verbal sounds can turn your public speaking from amateur to professional.  That one little thing can completely change how your message is received and how people perceive you. And most of us use non-verbal sound out of habit, but thankfully it's one of the easier habits to break (mirror practice can help).
Also, always remember that the audience is not out to eat you (unless you're in a Dragon's Den…). And most of them are quite happy you're the one speaking and not them. Of course, nerves don't help so try to only focus on the first thing you will say. Usually once the presentation starts flowing, you will forget to be afraid. As long as you are passionate about your topic, nervousness should evaporate as soon as the flow kicks in.
Back to You:
When listening to a presenter, what are you top public speaking pet peeves?
If you do public speaking frequently, what are your top tips or advice for someone new to public speaking?